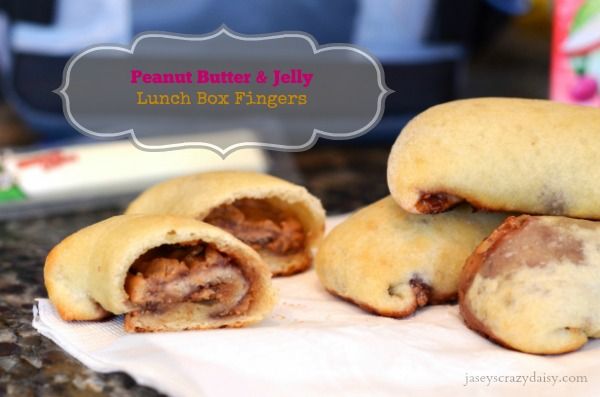 School is back in session and things are crazy! I'm sure you are all about as busy as I am checking back packs, packing lunches, supervising homework, shuffling from activity to activity, not to mention all the other tasks we are responsible for on a daily basis. In all the commotion it is easy to get stuck in a rut when it comes time for breakfast, to pack lunches, or even in providing after school snacks. It's easy to keep things fun and tasty with recipes like this one for Peanut Butter and Jelly Fingers. Once the frozen rolls have thawed, these are a snap to put together and great to keep on hand for a quick breakfast or to toss in lunches. They make great after school snacks too! I like to make these on Sunday afternoon so that I have them ready to go for the week. It's easy, all you have to do is thaw some frozen rolls as directed on the package. Once the dough is soft, roll them out on a floured surface.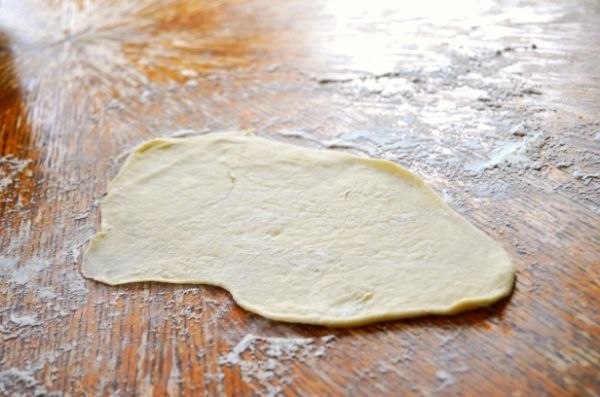 Spread the dough with a little peanut butter and your favorite kind of jelly. I used strawberry.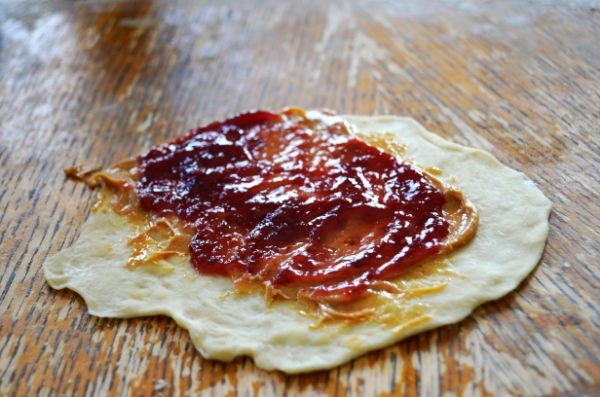 Kids love to help cook and this is a recipe for them to help with. If you are looking for more ideas on how to keep kids cooking, check out Rhodes' new kids cooking site, here. Rhodes needs some helping naming their cute hosts, you can let them know your ideas and enter to win another giveaway (bonus:) ), here. The important part is leaving about an inch around the outside edges bare so that the sandwiches can be sealed. Once the peanut butter and jelly is all spread out, roll up the sandwiches starting with the edge that is covered.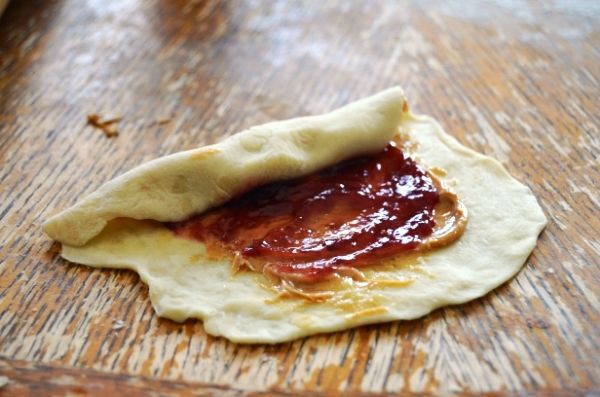 Press the long seam to seal it. Pinch the ends together and fold them over the seam, pressing lightly to seal all the gooey stuff inside.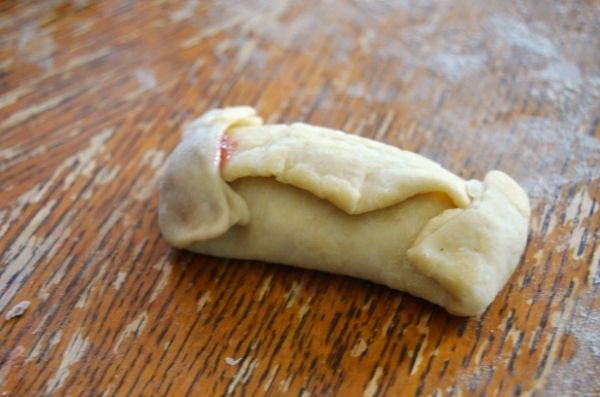 Place the Peanut Butter and Jelly Fingers seam down on a cookie sheet that's been sprayed with cooking spray. Bake them for about 15 minutes, rub the tops with a stick of butter and bake for another 5 minutes or until golden brown and done. Once completely cool, store them in an airtight container. Enjoy.
Peanut Butter and Jelly Fingers
8 Rhodes Dinner Rolls(or as many as you want to make) peanut butter (1 Tablespoon/sandwich) jelly (1 Tablespoon/sandwich) stick of butter
Let rolls thaw per directions on package. Preheat oven to 350 degrees. Spray baking sheet with cooking spray. Roll dough over a floured surface until it's a flattened oval. Spread with peanut butter and jelly, stopping an inch from the edges. Roll the sandwiches up. Lightly press the seam to seal it. Pinch the ends and fold them over the seam to seal. Place on baking sheet. Bake for 15 minutes, rub tops with butter, bake for another 5 minutes or until golden brown. Cool and enjoy. Once cool store in an air tight container.
I think you are going to love this recipe as much as your kids do! These Peanut Butter and Jelly Finger sandwiches are delicious and so easy to make! I love using Rhodes bread dough a as shortcut to making treats that taste so good! I've partnered with Rhodes to offer a sweepstakes with a Rhodes Kids Prize Package. Come on over to my blog, Jasey's Crazy Daisy, and enter for your chance to win!
For more kids Lunch box and after school snack ideas visit Rhodeskidsbaking.com
About
The official blog of Rhodes Bake-n-Serv, home of America's favorite frozen bread and rolls
Rhodes Bloggers
Guest Bloggers
Grab our badge or blinkie
Grab our badge or blinkie for your blog!