Hello, it's Jasey from Jasey's Crazy Daisy here again to share a fabulous recipe for Monte Cristo Roll Ups. I had never heard of the Monte Cristo Sandwich until my husband and I ate at Bennigans restaurant when we visited Bozeman, Montana (I don't think it's even there anymore). He loved going to Bennigans, it was an Irish pub (I'm not sure it was the food that excited him as much as the Guiness). Anyways, I remember finding it (the sandwich) a bit odd at first, turkey, ham, cheese, and... raspberry???? But the the more I thought about it the more intrigued I was and the picture on the menu hooked me line and sinker. One bite and I was a totally goner!
Their monte cristo sandwiches were fried and crazy delicious and I often think about that sandwich and how amazing it was (admit it, you daydream about sandwiches too) and decided to create my own Monte Cristo Stromboli. I was looking for a sandwich with all the Monte Cristo elements, but that could serve my crew all at once. I don't like to fry food very often and I wanted a quick and easy recipe to prepare but didn't want to sacrifice on flavor. This is where Rhodes comes in.
With just a little planning ahead to remember to set the dough out to thaw, Rhodes Traditional White Bread makes it possible to create amazing recipes that taste all the way homemade and are easy to make. Sometimes I'm all about making things from scratch, but there are some corners that are meant to be cut and using Rhodes in place of homemade bread dough is one of them. They've totally got you covered when it comes making things with bread dough. You can skip messing around with yeast (yikes) and kneading and cut right to the fun part, making amazing eats and treats. Are you ready to get started?
To make these little gems you'll want to spray a baking sheet with cooking spray and set one loaf of Rhodes frozen bread out to thaw. Spray a piece of plastic wrap with cooking spray and lightly cover the loaf while it thaws.
Once the dough is nice and soft, set it on a well floured table top and roll it into a rectangle (roughly 12x15 inches). It doesn't have to be perfect.
Next, spread a little raspberry jelly over the dough stopping about an inch away from the edge so that you will be able to seal everything nicely.
Top the jelly with a few slices of cheese, I used provolone, but Swiss or even American would work well if you'd prefer.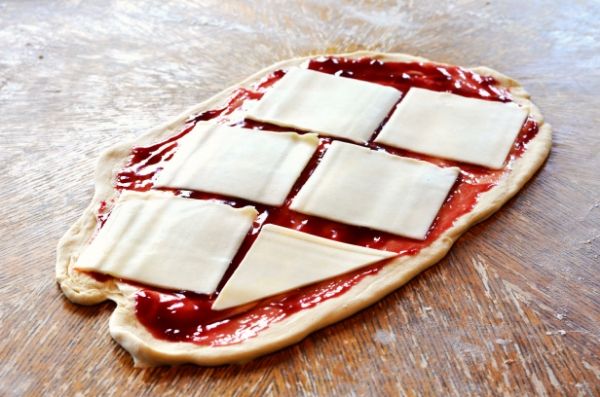 Top the cheese with some slices of ham and maybe even some turkey too. Yummmm!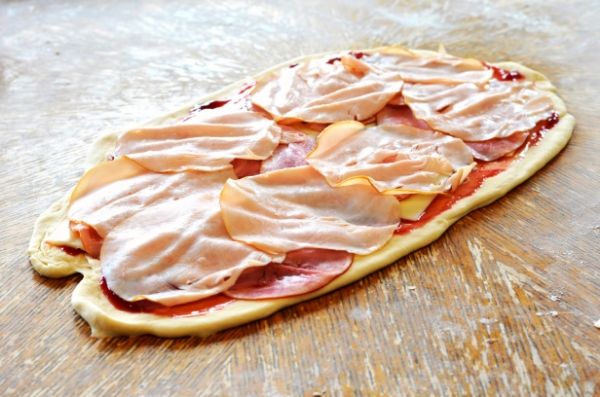 Roll her up.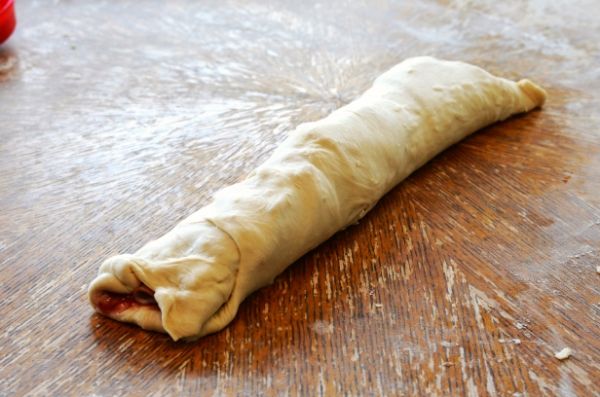 Fold over your ends and press all your edges together to seal everything in.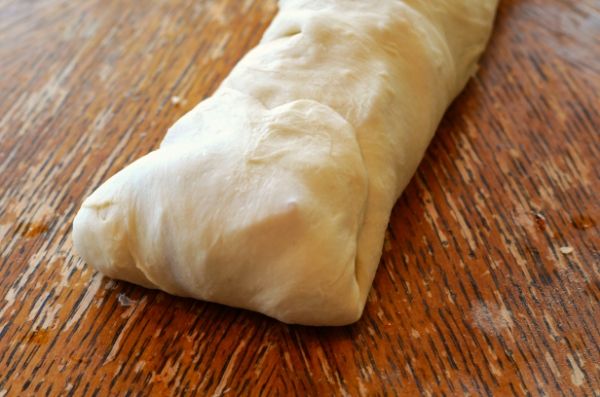 Place back on your cookie sheet, seams down.
And bake at 350 degrees for about 30 minutes or until bread has turned golden brown. Sprinkle with a little powdered sugar.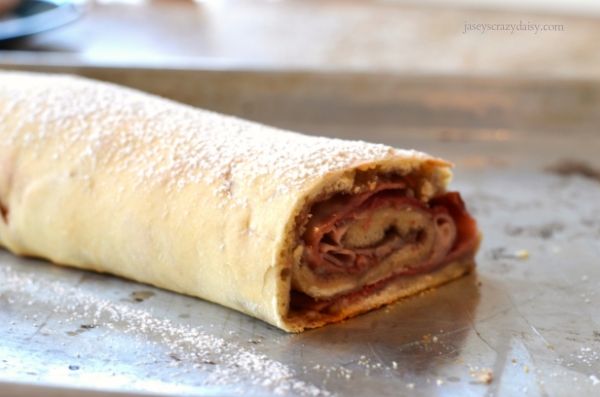 Drizzle with a delicious raspberry glaze. Slice and enjoy. Easy, right?!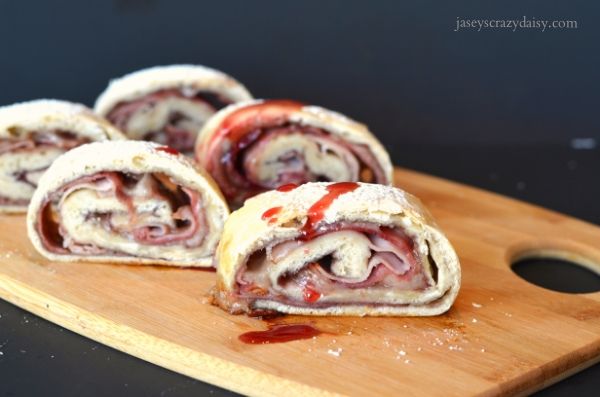 In a nutshell, all you have to do is follow a few basic steps and you'll have a delicious Monte Cristo Stomboli that's sure to impress.
Monte Cristo Roll Ups
1 loaf Rhodes frozen bread dough 2/3 cup raspberry jelly, divided (I used seedless) about 6 slices of provolone cheese 6-8 slices of ham 6-8 slices of turkey powdered sugar for sprinkling
Place dough on a baking sheet sprayed with cooking spray. Spray plastic wrap with cooking spray and loosely cover dough. Leave dough to thaw, about 5 hours or as directed on package. On a table top spread with flour, roll softened dough into a 12x15 inch rectangle. It doesn't have to be perfect. Spread dough with 1/3 cup raspberry jelly stopping about an inch before the edges. Layer cheese, turkey, ham slices over the jelly. Roll dough, lengthwise, into one loaf. Fold ends under and press all edges to seal. Place, with seams down, back onto baking sheet and bake at 350 for 25-30 minutes or until golden brown. Sprinkle with powdered sugar.
Meanwhile, during the last few minutes of baking, place 1/3 cup jelly and 2 Tablespoons of water in a microwave safe bowl and microwave using 30 second intervals, stirring between each interval, until the mixture has melted into a smooth glaze. It will thicken a bit as it cools. You can either drizzle this over you Monte Cristo Roll Ups or use as a dipping sauce. Slice Stromboli and enjoy.
About
The official blog of Rhodes Bake-n-Serv, home of America's favorite frozen bread and rolls
Rhodes Bloggers
Guest Bloggers
Grab our badge or blinkie
Grab our badge or blinkie for your blog!